Clothing, Bags, etc.
Click here for More Clothing, Bags, etc.
| | |
| --- | --- |
| | |
| Teajuana's Jacket - I made this jacket June 2002 to enter into the Flower Valley Quilt Guild's 2003 Show. It is pieced with various blue and green batik fabrics. Imagine my surprise when my jacket won first place in the Clothing category. Pattern: Noelle's Jacket by the Rag Merchant | Patchwork Dress - I used 13 batik fat quarters to make this dress. May 2003 Pattern by Rag Merchant Update Dress won a Ribbon in the Flower Valley Quilt Guild's 2005 show. |
| | |
| --- | --- |
| | |
| Knot Your Average Vest - This vest can be worn in over 40 different combinations and is a pattern from Homestead Specialties. My creativity was stretched to start embellishing projects, making them more than just functional clothing. 2001 | Patchwork Vest - I purchased hand dyed fabrics while attending the 2002 AQS quilt show in Paducah, KY. 2002 |
| | |
| --- | --- |
| | |
| Brrr, It's Cold - I embroidered this sweat shirt using a free design downloaded from the internet. It incorporated embroidery with appliqué. 2003 | Project Carrier - I made 10 of these for Christmas gifts to members of my guild. I just got out a pencil and paper and designed them myself. This is the most used group gift I've ever made. October 2001 |
Quilted Carryall - Actual name of pattern. Completed in 2001.
| | |
| --- | --- |
| | |
| Large Raggedy Tote - I don't usually go for plaid fabrics but just had to purchase these fabrics because they were "brights" instead of the muted-tone plaids. Completed February 2004 | Slim Line Tote - These totes were based originally from the Country Tote pattern. I used the pattern to construct the outside of the bags but decided the bags needed a lining. I also added pockets and change the handle style. One of these bags will remain in my possession, the other one will be mailed to my Secret Santa. Completed 11/11/03. |
| | |
| --- | --- |
| | |
| Fashion Purse - Jackmans Fabric made up these kits and I just had to make me one. Now this is really something because I only carry purses to weddings or other very special occasions. 2003 | Fish Pin Cushion - This project was in American Patchwork & Quilting January 2003 issue. I quickly ran to the closest quilt shop to purchase felted wool. I made one for me and a friend for her birthday. February 2003 |
| | |
| --- | --- |
| | |
| Origami Quilting Case - A pattern from clover that has lots of mistakes and poor directions. I so wanted this case that I keep at it until it came out right. I couldn't understand the instructions for the flowers so I used a technique from another source. Began 6/12/04; completed 7/14/04 Update Won a ribbon in the Flower Valley Quilt Guild 2005 show. | Batik Bag - A fun and quick project. I found this pattern free on the internet. I had so much fun playing with free motion quilting. I would recommend this bag for anyone afraid to free motion quilt on an actual quilt. You can tone up your skills very quickly. January 2003 NOTE: Pattern is no longer available for free online. I haven't come across the pattern to refer interested visitors. |
This fairy's name is

Buttercup Elffly

which is my name converted from Emma Davies' website:

http://www.emmadavies.net/fairy/default.asp

. I've been so busy and just finally wanted to do something for me. While this is not quilt related, I've always wanted to make my very own doll. I took a class and made this doll in one day. I still have to decide embellishments, like beading the skirts and wings. I plan to have her sit exactly where she is, on top of my sewing machine, watching over me to make sure I get all of those UFOs completed! October 25, 2003
| | |
| --- | --- |
| | |
| Steph with Mickey Pillow made for daughter to take to college. She is using Mickey Mouse as her theme. Now she wants a quilt to match. Gee! Completed pillow July 2004 | Patches the Charm Dog Pillow - I was reading a book I borrowed from the library one evening and saw the pattern. I thought, "I bet I have enough pre-cut squares to make this. Better yet, I could probably make it a charm dog. I started on this project about 9:30 p.m. and around 2:00 a.m. (of course the next day) I had completed sewing the dog. I saved the stuffing for later on in the day. I did make two of the squares match as our ancestors who did this for a family game. Completed February 12, 2005. Also, I made another one of these for a friends birthday in February 2005. |
| | |
| Can you believe that this is my Quilting Trash Can? I use it at my cutting station and take it with me to classes. | Combo Bag made for my daughter from the Chelsea Tote bag pattern by Lazy Girl Designs. April 2004 |
| | |
| --- | --- |
| | |
| Activity Quilt - Made as a birthday gift for a friend's son to teach him how to manipulate buttons, zippers, laces, and weaving. November 2, 2002 | Stabilizer Holder - Used my embroidery machine to stitch the motifs. This is a very efficient way to keep items on rolls in order. |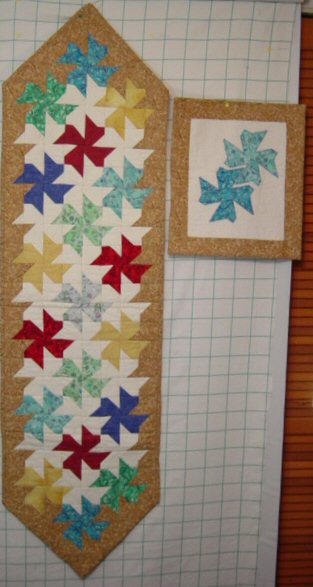 Harlequin Table Runner - A quick project to make. 7/17/2001
Summer Table Runner - I wanted to try free motion quilting by sewing through tissue paper so I made a quilt with a large quilting area. Began 6/27/01 Completed 7/15/2001
Pinwheel Puzzle - Pattern by Atkinson Designs. I made an appliqué of one of the pieced pinwheels and used that to make placements in each color way. 6/24/2000
Hit counter not on previous page.